Treated Water by Johkasou-Decentralized Sewage Treatment Plant  can use for Several Applications
The main purpose of Daiki Axis Johkasou is to treat wastewater and make it fit for discharge to normal environment or it to be used for non-potable applications. Standard johkasou systems are not advised to be used as industrial waste water treatment systems.
Using recycled water for such applications reduces reliance on increasingly scarce fresh water. It can also minimize groundwater usage and reduce discharges of treated wastewater into rivers and oceans.
Main Concept of Daiki Axis Solution
'Treat locally, reuse it locally' is the main concept of Johkasou-STP, and most suitable concept for Indian demand & circumstances.
Current Johkasou models are suitable for:
• Individual Houses, Farm Houses, Small communities,
• Hospitals, Nursing homes, Schools & Colleges, Hostels, Resorts, boat houses,
• Hotels, Guest houses, Marriage Halls,
• Offices and Factories, Logistics parks, Shopping Malls,
• Small Airports, Railway Stations, Bus Stops, Public convenience centres,
• Parks, Gardens, nurseries, Sports Complexes
• and places not covered by Public sewer systems.
Portable nature of the product, rapid deployment, modular capabilities makes it perfect solutions for:
• Labour camps, constructions sites, Temporary shelter homes,
• Event sites, Religious events like Kumbh Melas, political Rally sites, temporary exhibition grounds etc.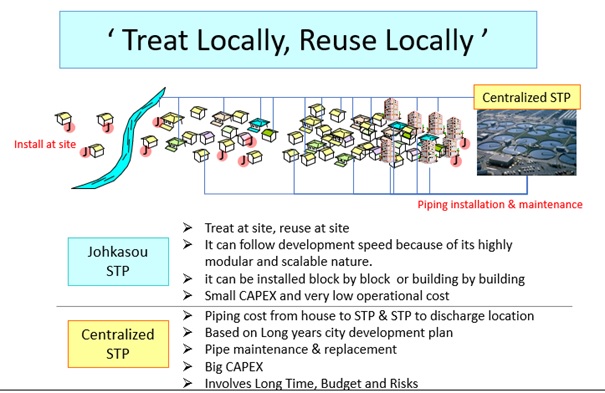 Treated Sewage water can be used for a wide variety of applications. Following are few examples:
• Gardening, Landscape development & Irrigation
• Construction water
• Vehicle washing
• Fire Fighting
• Stream and Wetlands Enhancement
• Industrial Processes
• Recreational Lakes, Fountains and Decorative Ponds
• Toilet Flushing
• Various industrial usages including boiler and cooling tower makeup.